Introduction to Information Design (IID-01)
Information Design Course Singapore
Capability
Re-imagine your data and content with clear, refreshing visuals.
Information Design Course
Information design merges data with dynamism. Visual literacy, much like linguistic and mathematical literacies, is a key skill in this digital age. Introduction to Information Design focuses on how to visualise and experience content (research, white papers, social media posts, taglines, brand stories) through balancing form and function. From way-finding and warning signs to posts, articles, forms, and user interfaces, this intensive course looks at the strategies, histories, and the applications of information principles that bring order and appeal to content. This course is covered by the ASEAN subsidy for eligible participants.
Check my eligibility for ASEAN subsidy

You are eligible for ASEAN subsidy if you are:
1. Legally resident in any of the 10 ASEAN member states, and
2. Enrolling any time from 1 January 2022 to 30 June 2022, regardless of the actual course dates.

Legally resident in any of the 10 ASEAN member states:
The subsidy will apply to you if you are currently holding citizenship, permanent residence, or settled status from:
› Brunei
› Cambodia
› Indonesia
› Lao PDR
› Malaysia
› Myanmar
› The Philippines
› Singapore
› Thailand
› Viet Nam

Enrolling within the ASEAN subsidy period:
The ASEAN subsidy period applies to the date of enrolment, and not to the course session itself, which can be outside this period. ASEAN subsidy is applied immediately at the point of enrolment.

Example 1: ASEAN subsidy will apply
Participant enrols on 20 January 2022 for a course that is starting on 25 July 2022. The date of enrolment falls between 1 January 2022 and 30 June 2022. ASEAN subsidy will apply.

Example 2: ASEAN subsidy will not apply
Participant enrols on 10 August 2022 for a course that is starting on 18 September 2022. The date of enrolment falls outside of 1 January 2022 and 30 June 2022. ASEAN subsidy will not apply.

You can apply the ASEAN subsidy to your enrolment directly from your course enrolment form below. For further queries please call +(65) 6573 7370 or contact us →
Fee and subsidy
S$550.00 (S$229.18 after ASEAN subsidy)
Duration
1 day (9:30am – 4:30pm)
Delivery
Live-streamed interactive
Maximum 8 participants
Requirements
Conducted in English
Course modules
Modules offer participants comprehensive insights into the subject matter, drawing from academic and industry research.
1

Information literacy
Reading and processing content
Deconstructing information elements
Deconstructing graphical elements
What is necessary; not what is minimal
Visualisation schemas and strategies
Icons, symbols, signs, and semiotics
2

Systematic design approaches
Organisational vs. cultural signifiers
Analogue information design systems
Digital information design systems
Otto and Marie Neurath: Isotype
Age-driven information design
Gender-driven information design
3

User-design strategies
User-experience maps and signatures
Scientific and technical design
Typographic and logographic rules
Colour theory and spatial relationships
Gestalt principles of design and layout
Graphic literacy and visual pedagogy
4

Visualising data and decisions
Data as marker and market force
Forms and customer journeys
Warning design and public information
Animation in design-led journeys
Monetising data and visual values
Information design in VR spaces
5

Beyond your course
Learning continues long after a course ends, with lifelong access to all of your instructors, through CCIL Qrowd™. Regular post-course meet-ups, one-on-one refreshers, and free advanced courses mean maximum exposure to every aspect of information design.
Course objectives
Delivering clear professional learning outcomes for people of all abilities and ambitions.
I will understand:
why art and design differ, and why this affects content decisions
the principles of information design that create consumer engagement
audience expectations of design in economic and cultural circumstances
I will be able to:
create infographics for print, digital, and AR and VR spaces
visualise data in aesthetically pleasing ways for my audiences
design stimulating social campaigns centred around my brand
Course applications
Relevant and reliable training that meets the demand for increasingly sophisticated communication skills.
How we read and process a novel or poem differs intensely from how we process information in a form, social media posts, search results, timetables, parking signs, and e-commerce webpages. Simply put, information design is about making data desirable by adapting content to appropriate reading methods. The networked world is a rich marketplace, where a single cellphone contains more information than entire libraries, museums, and exhibitions put together. This course responds to the demand for making complex content easy to understand and beautiful to look at.
As information designers, we are tasked with creating meaning through graphical elements that include words, images, and sounds. In this course, we will discover why simplicity is both essential and difficult to achieve, owing to (i) data volumes; (ii) graphical limitations; (iii) user attention spans; (iv) information anxiety and over-compensation.
Form and function fuse together to create familiar forms of physical and digital communication (social media posts, white papers, data tables, wayfinding signs, parking coupons, sign-up forms, medical leaflets) in uniquely pleasing combinations of words, images, and sounds which add to the integrity of your content.
Information Design involves economics and ergonomics. The next time you're assembling a new piece of furniture think about how well the instruction manual represents reality. We tend to think of information design in terms of colourful infographics, sparse cartoons, and snazzy slideshows, but the history and realities of the field are rooted in solving serious problems: military maps, ship navigation, runway lighting systems, highway signage, poison markers, election polls, medical claim forms, and the layout of examination papers are just a few areas that rely on designing information to keep societies safe and running.
Why do we stop at red lights? How does the uppercase Q stand-in for 'queue'? IRAS and Google both require us to fill in forms — the former once a year, the latter every few minutes; so why do most people still dread filling in forms? Visual diction — i.e. the clarity of letterforms and graphics to communicate an idea — is a learned language that often supersedes oral exchanges and socio-cultural norms. Visual diction is the backbone of information design and is our starting point in Introduction to Information Design.
Learning to visualise information is an essential skill that goes beyond artistic talents. You will be able to think systematically about design processes and translate your findings into appealing solutions. You will also be able to develop and package your content in a simple, clear graphical language alongside mainstream semantic and linguistic representations.
Arjun Khara is a PhD researcher, front-end web programmer, an Adobe Certified Expert, and co-creator of Singapore's Silent Heroes Awards. His work, speeches, and ideas have been televised and featured in newspapers and radio interviews in Singapore, Southeast Asia, and Greater China and India. Arjun is currently completing his PhD, investigating fairness for user experiences in government digital platforms. More on your convenor →
2018 – 2022: PhD in Typography and Graphic Communication, University of Reading, United Kingdom
2017 – 2018: Masters (Valedictorian Orator) in Computer Games Art and Design, Goldsmiths College, University of London, United Kingdom
2002 – 2005: Bachelors (Golden Key Hons.) Communication, Media and Culture, University of South Australia, Australia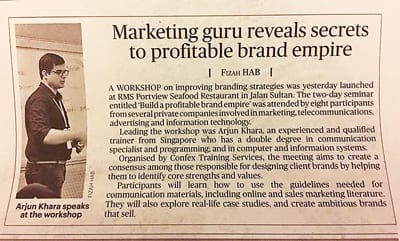 Course schedule
Pick your own course dates for groups of 3 and more. Use the enrolment form below to choose your preferred dates, or set your own schedule.
Today is:


Monday
Information Design Course (Dec 2021)
Information Design Course Singapore
1 Tampines North Drive 1, 528559 Singapore The Quantico Centre for Communication & Information Literacy Pte. Ltd. Live-streamed
Lead Instructor: Arjun Khara →
Monday
Information Design Course (Feb 2022)
Information Design Course Singapore
1 Tampines North Drive 1, 528559 Singapore The Quantico Centre for Communication & Information Literacy Pte. Ltd. Live-streamed
Lead Instructor: Arjun Khara →
Monday
Information Design Course (Mar 2022)
Information Design Course Singapore
1 Tampines North Drive 1, 528559 Singapore The Quantico Centre for Communication & Information Literacy Pte. Ltd. Live-streamed
Lead Instructor: Arjun Khara →
Set my own dates
For a group of 3 or more
A group of 3 or more participants have the added flexibility of setting their own course dates. Select 'Set my own dates' from the 'Preferred date' dropdown, in the course enrolment form. Enter some dates of your choice and we will confirm one with you.
Enrol for your Information Design Course. You can use this service to:
• enrol for your chosen course
• add additional participants to your enrolment
• apply the ASEAN subsidy for eligible participants