Phenomenal Content Starts With You…
Giving your copywriting an infectious energy.
Bringing your brands directly to audiences.
Socialising your online and offline presence.
Creating fascinating new worlds for your readers.
ISO 9001:2015
Quantico is an ISO 9001:2015 certified organisation, and recipient of the SAC star. We are committed to, and in compliance with, the highest international quality standards for every workshop and course conducted in Singapore and in the region.
…
Training The World's Best + Brightest: Our Clients.
A – F
A*Star
AccorHotels Asia Pacific
AccorHotels Greater China
AccorHotels Hong Kong
ACE Insurance
Adam Khoo Learning Technologies Group
Agency for Integrated Care
AIA
AIESEC International
Alliance Era Pte Ltd
Art Science Museum (ASM)
Asia Pacific Maritime Trade Show
Asia Television Forum
Audi
AXA Insurance
BAG Networks
Baiduri Bank
Baron's Strong Brew
BASF
Bayer CropScience
Bethesda Care and Counselling Centre
BlackBlue Media Group (BBMG)
Boys' Town Singapore
Brother International
Bureau Pte Ltd
BusinessChina
Canadian Chamber of Commerce
Canopy Design
Chan Brothers Travel
Charities Aid Foundation South East Asia
CHIJMES
Civil Service College (CSC)
ClearPath Sdn Bhd
Confex MICE
Contact Centre Association of Singapore
DBS Bank
DBS Vickers
Deloitte
Delphys Singapore
DigitasLBi
Dow Chemical Company
DST Telecoms Brunei
Duke-NUS Graduate School of Medicine
Duo Studio
E-commerce Enablers
Employment and Employability Institute (e2i)
Esplanade Theatres By The Bay
ESSEC Business School
Evolve Mixed Martial Arts
Fairfield Methodist Alumni Association
Far East Management Pte Ltd
Far East Hospitality Pte Ltd
Fullerton Financial Holdings
G – N
Gems Advisors (Asia) Pte Ltd
George P. Johnson
Gold Roast White Coffee
Goodrich Global
Google
Grand Mercure Singapore Roxy
Hai's Pte Ltd
Havas Media Pte Ltd
Hitachi
ibis Singapore
Ikeda Spa
Infocomm Development Authority (IDA)
INSEAD
International Data Corporation (IDC)
Institute of Singapore Chartered Accountants (ISCA)
Institute of Technical Education (ITE)
Intercontinental Hotel Group (IHG)
International Enterprise (IE) Singapore
IP Academy Singapore (IPOS)
Iron Ore Week Singapore
Isobar
Keppel Logistics
Kinzo Vietnam
Knowledge Management Solutions (KMS)
Kuo Chuan Presbyterian Primary School
Kwanpen
Lantiq Asia Pacific Pte Ltd
Lazada South East Asia
Lazy Lizard Restaurant and Bars
Mahidol University (Thailand)
Make It Work
Marina Bay Sands
McCann World Group
MediaConcepts
Metro
Mendaki (Yasan Mendaki)
Mindshare
Ministry of Communications and Information (MCI)
Ministry of Defence (MINDEF)
Ministry of Education (MOE)
Ministry of Manpower (MOM)
Momenta
MUIS
Nanyang Technological University
National Council of Social Service (NCSS)
National Health Group Diagnostics (NHG)
National Institute of Education (NIE)
National University of Singapore (NUS)
National University of Singapore Society (NUSS)
National Youth Council Singapore (NYC)
Navis Capital
Neo Garden Catering
Ngee Ann Polytechnic
Nippon Paint
Novotel
NTUC
O – Z
OCBC
Offset SG
Omron
One World International School
Peatix
People's Association Singapore (PA)
Persatuan Permudi Islam Singapura
POSB Bank
PPIS
PSA Corporation Ltd
Quadmark
Reed Exhibitions
Regent Corp-Werkz
Republic Polytechnic
Ricoh
Ripe Australian Fruit Juices
River Safari
RMA Contracts Pte Ltd
ScreenSingapore
SE10
Shenton Wealth Holdings
Singapore Exchange (SGX)
Singapore Furniture Industries Council (SFIC)
Singapore Institute of Management (SIM)
Singapore Kindness Movement
Singapore Polytechnic
Singapore Pools
Singapore Post (SingPost)
Singapore Science Centre
Singapore Swimming Club
Singapore Tourism Board
Singapore Zoo
Singtel Telecommunications Pte Ltd
Singtel Mobile Pte Ltd
Sofitel Philippine Plaza Manila
Sofitel So Singapore
Somfy Pte Ltd
ST Electronics
Standard Chartered Bank
StarHub
Sysmex
Trend Micro Inc
TUM Asia
Upnixt
Upper Storey Pte Ltd
Vantage Point
Warees Investments Pte Ltd (MUIS)
Wesley Methodist Church
Wildlife Reserves Singapore
WineTime Singapore
Wirecard
Workforce Development Agency (WDA)
Zalora
Zurich Insurance
100% Design Singapore
3M
8i Holdings Ltd
Workshops + Courses at a Glance.
Global Training Standards.
SAC + ISO 9001:2015
Quantico is an ISO 9001:2015 certified organisation; we are fully committed to the highest international quality standards for every workshop and course we conduct in Singapore and in the region. Quantico's workshops and courses are crafted on the premise that what you write, and how you write, can change the minds of your audiences about your organisation, your brands, and your content platforms. Your workshop tools also provide the foundation for developing your cross-disciplinary skills in related fields of design-thinking, social communication, and public engagement. Throughout your workshop, you will have the opportunity to build on your own case studies, and immediately apply your learnings towards building phenomenal content.
We are opening new frontiers and building mission-critical abilities through Quantico's Workshops + Courses in Singapore and the region. Your writing has the capability to convert consumers to customers. In other words, your words possess unlimited potential to change someone's world. While many of us will know how to write copy or have some experience creating marketing campaigns, formally learning the rules, and the tools, of professional writing gives you far more options to extend your content's influence. Your workshop groups are kept small to maximise individual attention so we can deep-dive into each of the principles of effective content creation, and answer why copywriting works so well, and for so few.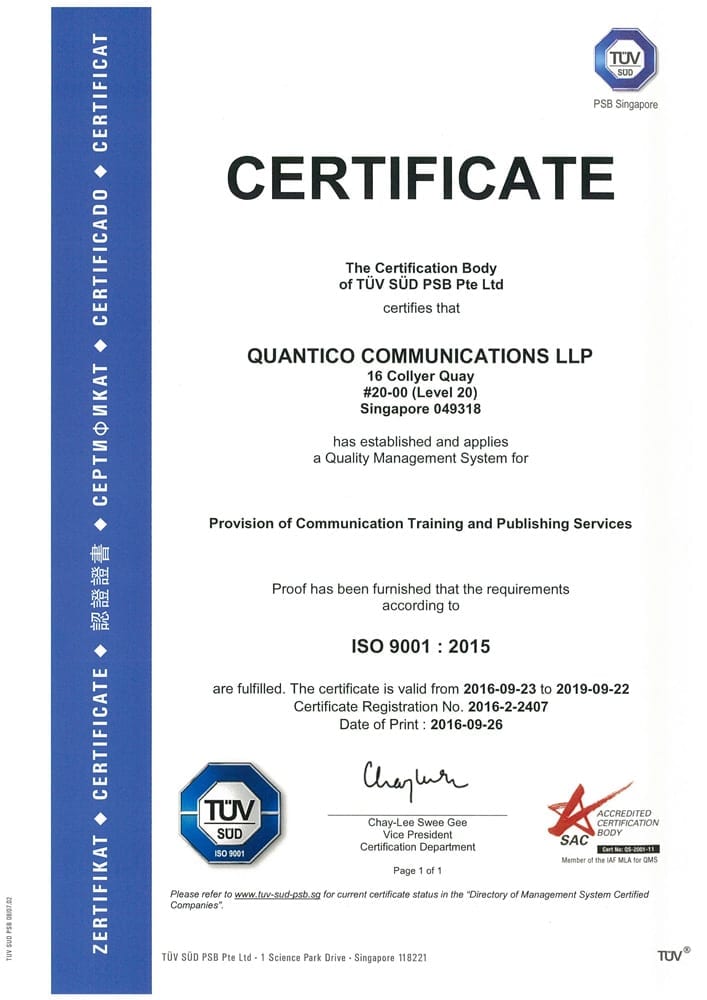 Content Workshops Across Singapore + ASEAN.
Leading By Example.
Sharing our copywriting expertise with Ministry of Communications and Information (MCI)
The Ministry of Communications and Information (MCI) works across a diverse range of specialities to communicate content thoroughly and effectively to an entire smart-nation. Quantico worked with the ministry's agency, REACH, to explore the world of search and online engagement. Quantico's blended copywriting and search marketing workshop uses key aspects of copywriting and content marketing, coupled with organic search marketing and digital culture strategies, to help organisations like REACH engage with Singaporeans and create strong online and offline communities that encourage participation and civic dialog.
Sharing our media release competencies with the Workforce Development Agency (WDA)
The Singapore Workforce Development Agency's (WDA) programs directly impact every organization, employee and business person. Updating the public on multiple activities requires precise communication to every stakeholder, so the WDA chose to upgrade its media release skills with Quantico. Our media release workshop was specially tailored to help WDA's teams create useful media releases that synergized facts and figures with authenticity and interest. Visit Quantico's Content Marketing Workshops to learn about media releases and how content development training is applied across large organisations.
Sharing our social media content strategies with Institute of Technical Education (ITE)
The Institute of Technical Education (ITE) is making a positive difference to thousands of students and faculty members every year through continuous innovation and technical progress. Keeping up with innovation requires a constant inflow of knowledge and experience, so the ITE chose Quantico-led seminars to work with its faculty. Our social media content workshop helped the ITE's faculty analyze and predict social trends to create relevant, future-proof content. Visit Quantico's Web Workshops to learn more about social media strategies and how to create authentic stories that build viral connections for your brand.