Quantico Centre for Communication and Information Literacy
About us
Applying the highest standards to people development across Singapore and S.E.A.
The Quantico Centre for Communication and Information Literacy is a training, writing, and publishing organisation in Singapore. We help solve the myriad communication challenges affecting information communities. Since our founding in 2005, we have been a learning resource for governments, charities, businesses, academia, NGOs, and startups. We take a unified approach to communication design and information literacy, delivering sound principles and scalable practices to your content teams.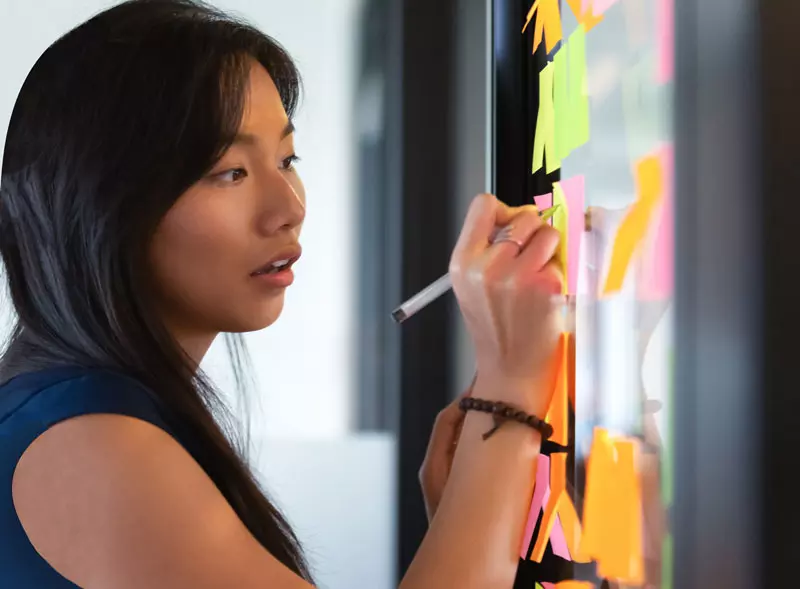 Humanising communication
As we train we enhance communication and information literacies in communities across Singapore and Southeast Asia through quality learning that grows knowledge and generates great ideas. This approach made us a leader in our field. Today it keeps us ahead of it.
Our courses [+] move across age, culture, and capabilities to embrace a global community of content creators, designers, and coders. Our learners are highly valued in their jobs and the wider community for their copywriting, coding, content marketing, and storytelling.
Our team [+] is made up of university lecturers, doctoral and postdoctoral researchers, senior industry leaders, and published authors. We design and direct a spirit of curiosity in all our learners, which leads to superior industry knowledge and content practices.
Service responsibility
We deliver learning experiences built on a culture of attentiveness, innovation, and empowerment. We invite each of our learners to rely readily on us for relevant skills, and to consistently hold us to standards which exemplify the spirit of service, trust, and dignity.
We are opening up frontiers and building mission-critical skills that (i) exceed the needs of our clients; (ii) excel in our contractual obligations; and (iii) keep improving our quality service standards.
Our goal is to always respond diligently to every customer and employee, gather regular feedback from partners and stakeholders, supply updated courses and publications, and create an equitable workplace.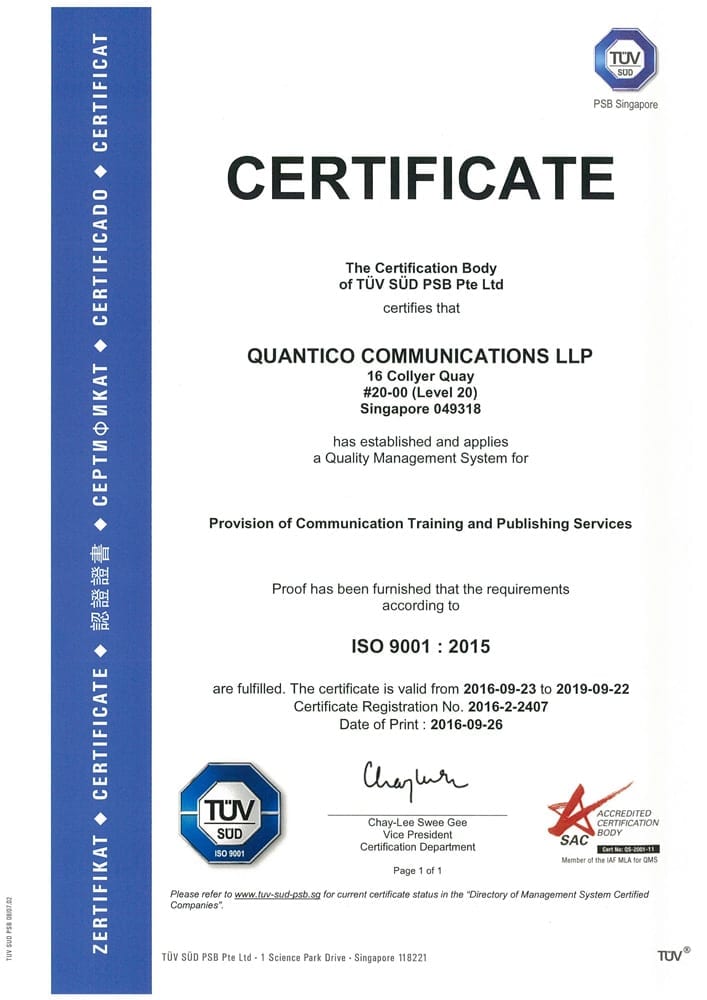 Management philosophy
Learning with the best: Your course is facilitated by experienced academic and industry leaders. Each course convenor has the requisite 12 years of experience needed to teach at Quantico CCIL. Our team members have either won awards in their respective fields, or are directly pegged to the ISO 9001:2015 framework within Quantico CCIL to develop training material for market demands.
Relying on relevance: Your course is proofed for relevance through a series of research and trend-spotting methods that keep your organisation ahead of its markets. We listen to and understand your needs. Then we put these needs through internal surveillance audits to ensure that your learning tools are valid for a minimum of five years.
Reinventing support: We have raised the bar on innovating lifelong learning support. Because it is not enough to rely on just your notes, you will have lifelong access to all your instructors, 100% free enrolment in advanced courses through CCIL Qrowd™ [+], and the best-in-class post-course support for all your future learning needs.
Code of ethics
Quantico CCIL maintains a strong zero tolerance policy towards discrimination, harassment and abuse, bullying, and anti-social behaviour. This code applies to public-facing activities and employee operations. When registering for any of our courses or workshops, every agent is required to read and accept the terms and conditions [+], which address these issues under articles 5 and 6.
Quantico CCIL enforces a safe, open, and conscious environment for every participant to learn and engage with instructors and with other participants. Accessibility also means making our work fully available to people with health issues, economic difficulties, and social or family challenges. Our promise of quality extends to customer service standards, financial responsibility, and the fair and equitable treatment of every person and entity interacting with us.
Quantico CCIL provides additional learning opportunities to citizens and residents of ASEAN member countries in the form of subsidies and grants, certain free-to-attend workshops, and onsite courses and seminars in ASEAN member countries where safe, feasible, and permissable to do so. As an ASEAN-born and headquartered company, our responsbility extends particularly to the region's under-represented groups who face difficulties in accessing affordable literacy training and skills development.