Quantico Centre for Communication and Information Literacy
Solving the pressing challenges of communication and information literacy will be among the most useful contributions to our world
Who we are
We are a team of communication specialists helping solve the myriad communication challenges affecting information communities. Since our founding in 2005, we have been a learning resource for governments, charities, businesses, academia, NGOs, and startups. We take a unified approach to communication design and information literacy, delivering sound principles and scalable practices to organisations.
What we do
Our courses prepare participants to humanise communication, which allows us to better understand one another, imagine new ideas, and collaborate more effectively. As we train we enhance communication and information literacies in communities across Singapore and Southeast Asia through quality learning that grows knowledge and generates great ideas. This approach made us a leader in our field. Today it keeps us ahead of it.
Our courses → move across age, culture, and capabilities to embrace a global community of content creators, designers, and coders. Our learners are highly valued in their jobs and the wider community for their copywriting, coding, content marketing, and storytelling.
Our team → is made up of university lecturers, doctoral and postdoctoral researchers, senior industry leaders, and published authors. We engender a spirit of curiosity in all our learners, which leads to superior knowledge and practices.
How we began
There was relatively little interest in communication training when we started in 2005. We began shaping the field by delivering learning experiences built on a culture of attentiveness towards content literacy, and not just content. We have since trained organisations — from regional governments to Google — with market-ready capabilities in copywriting, content marketing, document and digital literacies, visual design, and branded stories.
2005
Began our brand consultancy operations in Singapore under Strategy Box
2006
Restructured our training arm under Torrent Global Leadership Training
2008
Expanded our local operations during a rebrand under Blue Wisdom LLP
2009
Consolidated all of our operations under Quantico Communications LLP
2010
Launched our courses in Bandar Seri Begawan, Jakarta, and Kuala Lumpur
2014
Increased our regional presence to include Bangkok, Manila, and Shanghai
2016
Awarded ISO 9001:2015 certification for our training and publishing services
2019
Set up copywriting.com.sg as our dedicated portal for copywriting projects
2020
Established the Centre for Communication and Information Literacy Pte. Ltd.
2021
Created the ASEAN training subsidy for residents of all 10 ASEAN countries
2022
Launched our new Risk Communication course for individuals and organisations
We have since opened up new frontiers and built mission-critical skills that will continue to exceed the needs of clients and improve our quality service standards.
Arjun Khara receives a service award from the Senior Minister of State for designing the Singapore Silent Heroes Award
We have since reinvented our field and re-imagined our role in it many times, to stay ahead of the times. We have systematically innovated and been recognised for it.
Deepa Vijayan serves as a moderator for the publishers panel, at the 2019 Singapore Writers Festival
Operational philosophy
Simply put, you are learning with the best. Every course is facilitated by experienced academic and industry leaders. Each course convenor has the requisite 12 years of experience needed to teach at CCIL. Many team members have won awards in their respective fields; all are directly pegged to the ISO 9001:2015 framework within CCIL to develop training that meets the demands for increasingly sophisticated communication skills.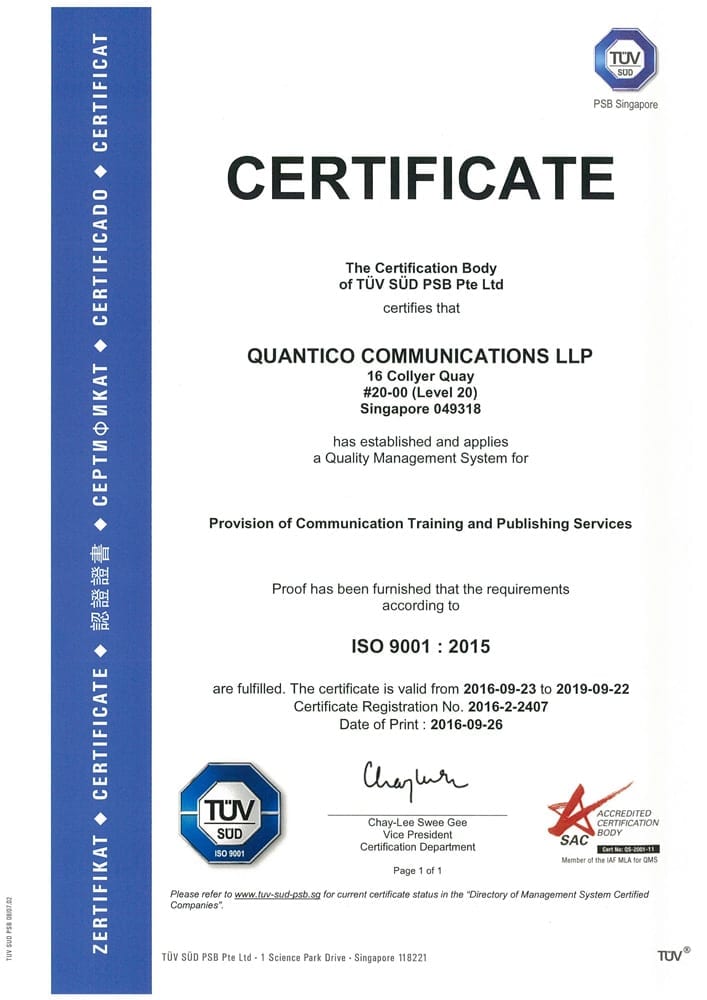 Rely on relevance: Your course is future-proofed for relevance through a series of research and trend-spotting methods that keep your organisation ahead of its markets. We listen to and understand your needs, then put this feedback through internal surveillance audits to ensure your learning tools are valid for a minimum of five years.
Reimagine post-course support: We have raised the bar on innovating lifelong learning support. Because it is not enough to rely on just your notes, you will have lifelong access to all your instructors, 100% free enrolment in advanced courses through CCIL Qrowd™, and the best-in-class post-course support for all your future learning needs.
Ethics and safety
CCIL has a zero tolerance policy towards discrimination, harassment and abuse, bullying, and anti-social behaviour. This code applies universally to every one of our operations. When registering for any of our courses, every person is required to read and accept the terms and conditions →, which address these issues under articles 5 and 6.
We enforce a safe and conscious environment for every participant to learn and engage with instructors and other participants. We make our work available to people facing economic, health, and social challenges. This extends to customer service standards and the equitable treatment of every person interacting with us.
We provide additional learning opportunities to citizens and residents of ASEAN member countries in the form of subsidies and grants, free-to-attend workshops, and onsite courses and seminars. Our responsbility particularly extends to under-represented groups facing difficulties in accessing affordable literacy → training and skills development.