Information Design Workshops + Courses (Singapore).
information design • infographics • document design • reading methods • page layout • user-experience • graphic literacy
(This workshop can be completed in-person or fully online)
ASEAN Population Numbers
ASEAN Citizenry in 2017–2018. Data Source: World Bank.
Infographic copyright Quantico Communications LLP. Some rights reserved.
Information Design merges data with dynamism. Visual literacy, like linguistic and mathematical literacies, is a key skill in this digital age. Introduction to Information Design focuses on how to visualise and experience content (research, white papers, social media posts, taglines, brand stories) through balancing form and function. From way-finding and warning signs to posts, articles, forms, and user interfaces, this course looks at the strategies, histories, and the applications of information principles and information visualisation to bring order and appeal to your content. The Quantico Company Pte Ltd is an ISO 9001:2015 Certified Organisation. This workshop has undergone and been certified by international quality assurance testing and audit.
Information Design Workshop Overview.
How we read and process a novel or poem differs intensely from how we process information in a form, social media posts, search results, timetables, parking signs, and e-commerce webpages.
Simply put, information design is about making data desirable by adapting content to appropriate reading methods. The networked world is a rich marketplace, where a single cellphone contains more information than entire libraries, museums, and exhibitions put together. This course responds to the demand for making complex content easy to understand and beautiful to look at.
Form and function fuse together to create familiar forms of physical and digital communication (social media posts, white papers, data tables, wayfinding signs, parking coupons, sign-up forms, medical leaflets) in uniquely pleasing combinations of words, images, and sounds which add to the integrity of your content.
Cost + Subsidy:
S$550 nett.
Inclusive of all taxes
Subsidy Eligibility Criteria [+]
Timeline:
1-day workshop
9:30am – 4:30pm
Requirements:
No content knowledge is assumed. (Conducted in English)
Participants are free to bring their own computers or tablets.
Modules mix academic theory with role-based applications.
Delivery:
In-person teaching and delivery.
1:9 (instructor-student ratio)
Option to complete this workshop fully online
Materials:
All your learning materials and module notes are part of the workshop. Participants are encouraged to bring their own case studies and work queries so as to maximise individual attention.
Venue:
Information Design Workshops are conducted at the Quantico Centre for Communication + Information Literacy (CCIL) at One Fullerton, or at Quantico's training offices in Raffles Place and Asia Square (Singapore).
Information Design Workshop Topics.
Understanding how we read and process content
Deconstructing the information element
Deconstructing the graphical element
What is necessary; not what is minimal.
Visualisation schemas and strategies
Icons, symbols, signs, and semiotics
Organisational vs. cultural signifiers
Analog and print information design systems
Digital information design systems
Otto and Marie Neurath: Isotype
Age-driven information design
Gender-driven information design
User-experience maps and signatures
Scientific and technical design
Typographic and logographic rules
Colour theory and spatial relationships
Gestalt principles of design and layout
Graphic literacy and visual pedagogy
Monetising data and visual valuations
Future: Information design in VR spaces
Monitoring Singapore's Highway Traffic
Singapore's Highways 2019 (concept only; this data is not live).
Infographic copyright Quantico Communications LLP. Some rights reserved.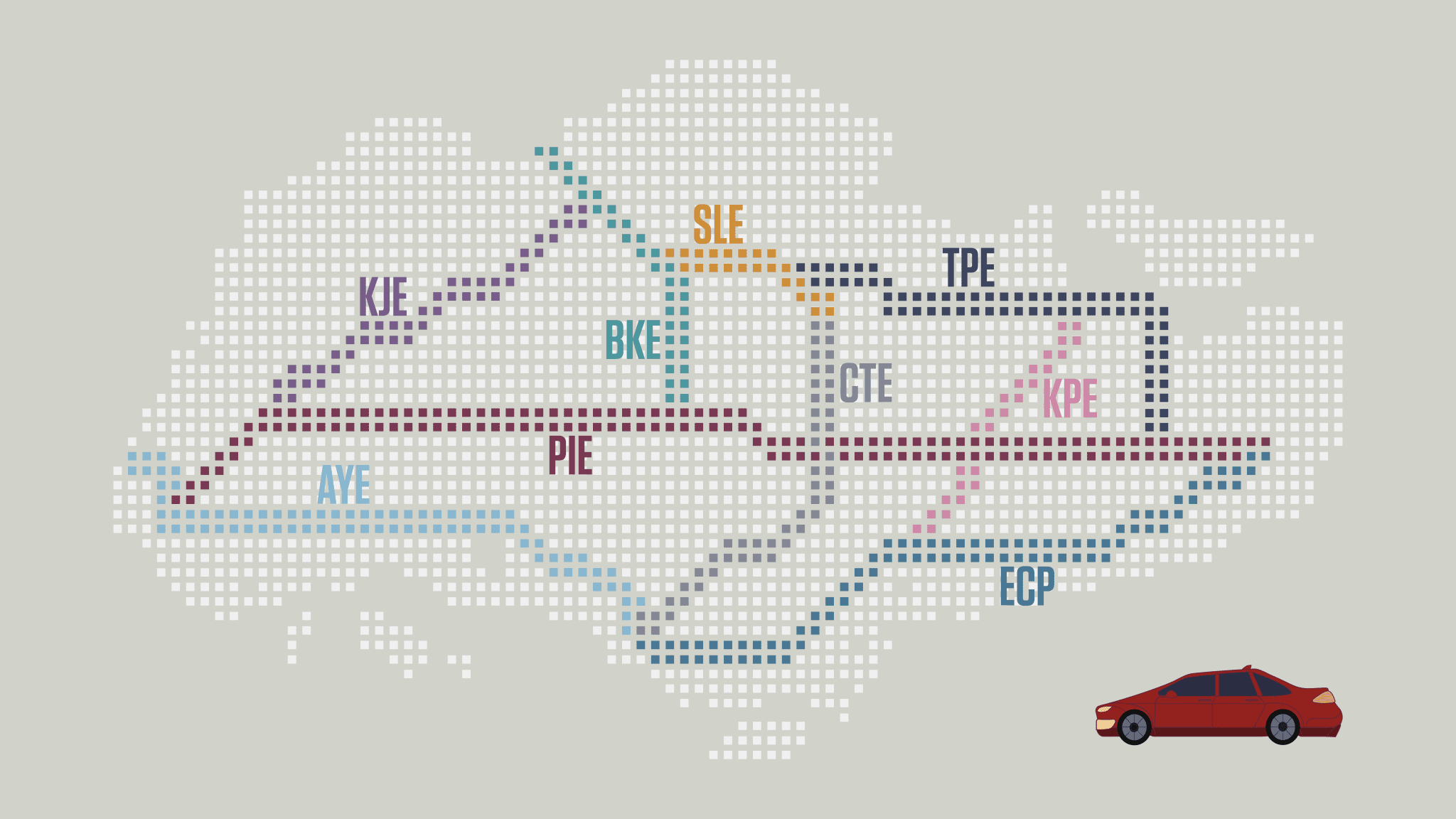 Information Design involves economics and ergonomics. The next time you're assembling a new piece of furniture think about how well the instruction manual represents reality. We tend to think of information design in terms of colourful infographics, sparse cartoons, and snazzy slideshows, but the history and realities of the field are rooted in solving serious problems: military maps, ship navigation, runway lighting systems, highway signage, poison markers, election polls, medical claim forms, and the layout of examination papers are just a few areas that rely on designing information to keep societies safe and running. Why do we stop at red lights? How does the uppercase Q stand-in for 'queue'? IRAS and Google both require us to fill in forms — the former once a year, the latter every few minutes; so why do most people still dread filling in forms? Visual diction — i.e. the clarity of letterforms and graphics to communicate an idea — is a learned language that often supersedes oral exchanges and socio-cultural norms. Visual diction is the backbone of information design and is our starting point in Introduction to Information Design.
Workshop Takeaways.
As information designers, we are tasked with creating meaning through graphical elements that include words, images, and sounds. In this workshop, we will study and understand why simplicity is both essential and difficult to achieve, owing to (i) data volumes; (ii) graphical limitations; (iii) user attention spans; (iv) information anxiety and over-compensation. Learning to narrate information is an essential skill that goes far beyond artistic or drawing talents. You will be able to think in systematic design processes, apply rational frameworks to problems, and translate your findings into appealing solutions. You will also be able to develop and package your content in a simple, clear graphical language (not art) alongside other mainstream semantic and linguistic representations. There are no conditions or pre-requisites for attending this workshop.
Workshop Learning Objectives.
On completion of this workshop you will be able to:
• Identify and implement simplicity principles in data visualisation
• Develop iconographic languages for your brand and individual projects
• Create infographics for print, digital, and AR + VR spaces
• Think in both linguistic and diagrammatic frameworks
• Manage information assets across markets and mindsets
• Understand audience expectations in cultural circumstances
• Orient your audiences towards meaningful data dialogues
From .COMs to .GOVs
Training The Best + Brightest.

AccorHotels

MCI

MINDEF

3M

NUS

Singtel

Google

WDA

Mindshare

Zalora

Audi

Deloitte

MOE

DigitasLBi

OCBC

StarHub

MOM

IHG

NCSS

McCann World Group
Visualising Data, Literally
Data Expressed Graphically as a Satellite Feed with Multiple Possibilities.
Infographic copyright Quantico Communications LLP. Some rights reserved.
Caption this graphic. Graphical languages express meaning through visual metaphors. Introduction to Information Design teaches you to think in graphical frameworks, and to construct visual vocabularies to aid meaning and engagement with your content. A satellite transmitting into space symbolises multiple situations, from network connection speeds to space exploration to high-tech spying. By itself, the satellite graphic is open to interpretation, but when contextualised with headers and brief descriptions (e.g. 5G: The Future of Mobile?) creates powerful messages that cannot be accomplished individually with text or images. Information design is a hybrid of clear visualisation and concise text working together to explain a complex message in simple terms with zero loss of the message's integrity.
Information Design Workshop Schedule 2020.
Information Design Workshops listed under this schedule are confirmed and will run as scheduled.
Wednesday
Information Design Workshop (January 2020)
Information Design Workshop in Singapore
One Fullerton #02-07 049213 Singapore
Centre for Communication + Information Literacy (CCIL)
Lead Instructors: Arjun Khara
Friday
Information Design Workshop (April 2020)
Information Design Workshop in Singapore
One Fullerton #02-07 049213 Singapore
Centre for Communication + Information Literacy (CCIL)
Lead Instructors: Arjun Khara
Tuesday
Information Design Workshop (June 2020)
Information Design Workshop in Singapore
One Fullerton #02-07 049213 Singapore
Centre for Communication + Information Literacy (CCIL)
Lead Instructors: Arjun Khara
Information Design Course Enrolment.
Enrol for Your Information Design Workshop, or Contact Us at +(65) 6573 7370 or at +(65) 6832 5115.
To attend this entire workshop online, please email group[@]qc.sg
Instant Technical Help: If you encounter any technical issues with your form or your enrolment, please get in touch with us directly at +(65) 6573 7370 or at +(65) 6832 5115 or send an email to group@qc.sg. For emails, we will typically respond with technical help in under 15 minutes.
Data Protection and Privacy: Quantico Communications LLP is fully committed to protecting your data and privacy rights, and acts in conformity with Singapore's [+] Personal Data Protection Act (PDPA). Data collected here is used solely for the purposes of registration and/or to call/email or communicate with you about your workshops. For all PDPA and data-collection queries, please contact our Data Protection Officer at +(65) 6818 9808 or email skills@quantico.com.sg
Uniformed Services: If you are a part of a uniformed services organization you may be eligible to apply for an internal subsidy for your training workshop and course at Quantico. This subsidy is for all gazetted uniformed services (the armed forces, police force, civil defence, medical organisations, and uniformed youth groups) approved by the Republic of Singapore.